We are so excited to begin our NEW Farmhouse Friends Mystery Project with all of you -

Let it Snow!

All 12 designers have been designing and stitching for our portion of the project! WOW...! Just when I think we've all outdone ourselves in designs - we pop out another great one for all of you!


Here is BLOCK #5

Let it Snow - "Winter Garland"
It will finish at 6" x 42"!


Click here to download: FREE PATTERN
ORDER PRINTED PATTERN
ORDER KIT HERE
Welcome to our Farmhouse Friends Mystery Projects. Here you will find our patterns and kits to complete your mystery project. Several designers have teamed together to create fun stitching for you. This page will be updated regularly as the projects change throughout the year.
Remember to always celebrate handmade! Happy Sewing!!

Also, don't forget to join the Facebook Group page for most of the updates and fun.
Check out blocks 1 & 2 that have already posted on their websites - you can now order them - FREE e-patterns with kits to purchase also.
Each Monday morning - (for 12 weeks) visit the website of the designers listed below. You will be able to order the pattern and kit for their portion of the project. If you don't get it finished that week, THAT'S OKAY! You can still keep ordering the remaining weeks and work on it at your leisure. It is CONTINUING PROJECT - so you'll want to be sure and get each week to finish in its entirety. If you happen to forget, don't panic - it will still be there for the entire 3 months! Click on the name of the designer's website and it will take you to their block site!
Farmhouse Threads
Block 1

Reets Rags to Stitches
Block 2
Block 3 - Snow Owl


Block 4 - Bits & Pieces with Joan


Block 6 - Primitive Gatherings - Lisa Bongean
Block 7 Debby Busby - Wooden Spool Designs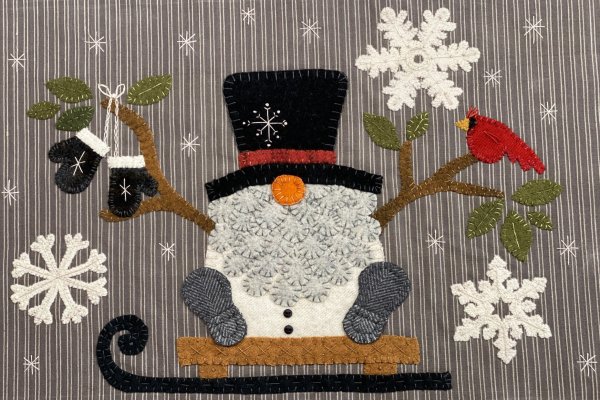 #8 Shawn York - Rusty Crow
#9 - Dawn Shuck - Sew Cherished
#10 -