GOOD MORNING!
I've been awake and up and movin' since 3:30 am this morning.... gosh I hate that! You know... you wake up because your uncomfortable in the bed... zzzzz .... then you have to make a trip to the bathroom .... zzzzzz ..... then you hear something ... zzzzz..... then you are dreaming - deep dream and you jump..... zzzzz ..... then your mind starts "thinkin" and you just can't turn it off... then you SWEAR YOU SMELL COFFEE BREWING.... and you realize your sweet hubby is UP and it really is THE SMELL OF COFFEE.... and you just have to have a cup! Anyone relate to any of these sleeping disorder issues? (I see you raising your hand out there.... OMG!)
That's when you know to stop fighting it and just get up!!! With that in mind... I've been very productive this morning! I can feel the "tired's" setting in.. so it may be soon I need to take a little power nap!
I've been getting in the Christmas spirit.... eeeeekkkkk!!!!
Pretty scary huh? I love, love, love, love, making Christmas crafts... you know...the kind that you just slobber all over because they are so darn wonderful?
Well... one of my passions is gingerbread decorations! I simply adore them... not sure why? Maybe because we had lots of gingerbread and cinnamon treats when we were kids? (I'm guessing here... actually have no clue as to why...)
See my little friends here? Well... I have a wonderful recipe to make these little guys! Plus... I'm making some big brothers too! They are so wonderful hanging on trees, in garland and on wreaths. Heck... I even love them just nestled in greenery in big wooden dough bowls!
So... after I get some errands done.... finish up a few things in the sewing studio... I'm playing with applesauce, cinnamon and glue! Quite a combination wouldn't you say? Of course.... there is the issue of pumpkins toooooo..... I adore them...and that season is before the gingerbread men!
Oh my...what in the heck to do first!
Look at this silly guys... I have the pattern to make them! I've been saving my husks from my corn this summer...it's dried and ready to go. See the stems on top of their heads? I even went on ebay and bought some from a pumpkin/gourd farm! Now how cool is that.... I also love their noses... we have a stick nose, cloth nose and I'm not sure what the third one is???? I'll take a picture and post the ones I make!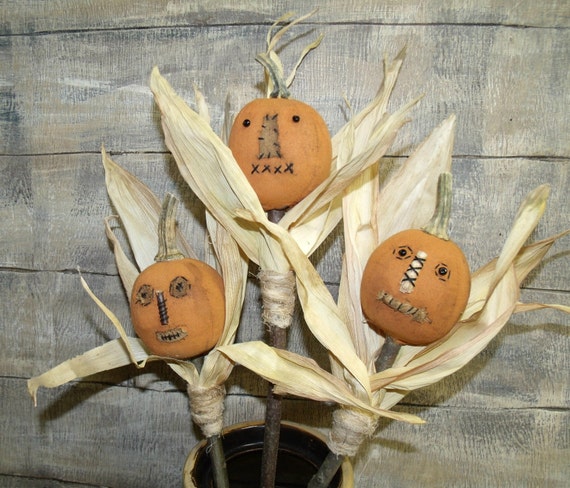 Okay...with all of that to get accomplished today.... I'm out-of-here and on to my full-FUN day! (I just remembered to make one of my pumpkins nose out of a nail!... they are so cute!)
Chat soon!
Gloria
.